Well, hello!
As many of you already know, our dear and very talented Mr. Myles Kennedy made some shows with the Kings of Chaos. These shows are happened in South Africa. There were two shows on
June 7th and 8th in Cape Town
and two more on
June 15th and 16th in Sun City
. So you might ask: what did they do for an entire week? Well, we are here to give you answers and solve all your problems!
So, on their time off, in Cape Town, Slash, Perla and their kids went to a safari, see some African animals. Sweet. I would like to do that.
As Slash and Co. went to see some land animals, Myles and went with his gorgeous wife, Selena, Gleen Hughes and Mark Rojas to see some sea animals. Yes. They decided to go swimming with the great white sharks. We were all praying that nothing happen to them. Luckily, nothing happened. Then, Myles & co decided to visit some penguins. Still following their idea of watching animals that have to do with the sea, or so I would think. So, here are some pictures of the things that happened. Enjoy.
While in Cape Town, they attended a press conference. Here you have some pictures.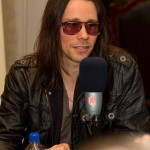 One of the things that make us very proud, is seeing HUGE names of monsters of rock and roll giving compliments to our favorite singer. Glenn Hughes, who is mostly known for his work with Deep Purple and is now one of the members of Kings of Chaos, said that "a lot of very talented singers over the years have come to me for advice: MYLES is not only one of the finest singers. He is a genuine Soul". We all love to see Myles getting such a high praise from one of the biggest names in the history if rock and roll! Way to go!

We have also had some good information on the press conference. On of them is that there will definitely be new Slash+Myles+Conspirators material best year, which we have all been anxiously waiting for. And, once again, Mr. Hughes gave Myles a excellent praise by saying that our favorite singer was the best performer on the group. Now THAT is compliment. Then, there were the shows in Sun City, you can see vids and pics
here
.